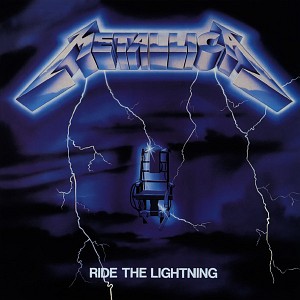 Ride the Lightning showcases Metallica at its best
Following their debut album,
Kill 'Em All
, Metallica went into to, say alcoholic mode, to explore themes related to death. What's quite unknown to Metallica fans is that, it was during this time that Lars and James learned about theory on music - stuff like melody and whatnot. Lars admitted this in an interview with Howard Stern.
All in all, with the new found musical knowledge and having experience of putting out an album for the first time, when the band hit the studio to produce their next set of songs, they were as shiny as a newly cut diamond. This is quite evident in their second album,
Ride the Lightning.
The album illustrates some of James Hetfield's best writings, as is the case with the title track, "Ride the Lightning." The solo of this song is definitely one of heavy metal's best; it perfectly coincide with the gloomy scenario depicted in the lyrics. If you haven't listened to it I'd highly recommend that you do so. Other hits like Creeping Death and For Whom the Bell Tolls have become permanent fixtures on Metallica's live shows.
Their willingness to explore new ground of music is showcased in "Fade to Black." It's Metallica's first power ballad made with the use of the acoustic guitar - pretty uncommon for a heavy band. Though the song was eyebrow-raising for hardcore metal fans and critics alike, it showed the bands' overall musical genius. The lyrics, riffs, solos and drumming were perfect, and the song is one of those few standalone ones that Metallica engineered through their thirty-year career.
Although the quality of the album is not appreciated at the time of it's release,
Ride the Lightning
stands as one of heavy metal's best albums of all time! It's just that damn good. Critics often overlook this in favor of
Master of Puppets
as Metallica's best album, but I simply disagree. A band managing to produce such high quality album early in their career deserves a great deal of respect.
---
Songs:

1. "Fight Fire with Fire"
2. "Ride the Lightning"
3. "For Whom the Bell Tolls"
4. "Fade to Black"
5. "Trapped Under Ice"
6. "Escape"
7. "Creeping Death"
8. "The Call of Ktulu"