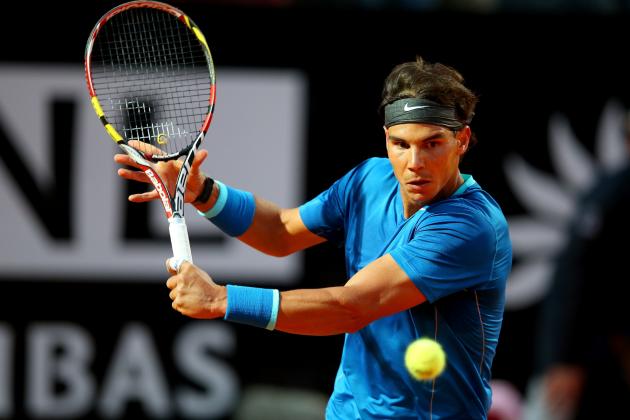 Nadal hasn't quite been the "King of Clay" at 2014 Rome Masters
It's been less than 24 hours following his gruesome battle against Simon at Rome Masters, Nadal had to play comeback-tennis once again against Mikhail Youzhny. Nadal was down a set and a break before making a come back and winning the second set to even things up. The set was fairly predictable judging by the way the second set ended.
What separates the Big 4 from the mediocre players? They have the mentally toughness to battle out of adversity. They are quite capable of winning even when they don't play their best tennis. That's the very thing that kept Nadal in the match, as he never really had to up his game to a significant degree to see-off his opponent. He was letting Youzhny finish the match, or even win it, but he wasn't willing to just give it away. But Youzhny clearly wasn't up the challenge of crossing the finish line.
A set and break up against one of the top players doesn't a lot as one might think. All that means is you can play just as good then, but not necessary better than them. You really need to close off the match if you want to be the better man.
It's really interesting to see how Nadal's is going to rebound from this match heading forward, knowing the competition is only going to get tougher. Surely having to play to play comeback-tennis at the early rounds isn't a good feeling when you are the best players and best clay court player. Murray is the next opponent for Nadal and that has to give him some relief, since he knows Murray's game well enough, and Murray's clay court record is abysmal.